Scroll down for the Step-by-Step Guide on how to create and redeem refund vouchers on Line-Up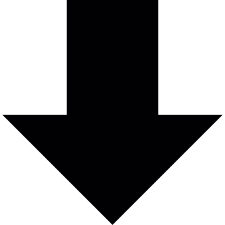 KEY TERMS & TIPS:
How do I create a refund voucher?
By creating a product on the Products page. Here you can enter voucher info, add a Price Table (but no prices) and attach Delivery Methods.
Depending on what you want your customer to receive after refunding to a voucher, it may be worth either:
Creating a refund/voucher-specific Delivery Method - with Email/Ticket Templates containing voucher info and merge tags - so you can attach it to your Voucher product. See here for more info about Delivery Methods.
Or adding voucher/product merge tags onto your standard E-ticket Delivery Method. See here for more info about merge tags.
See our Step-by-Step guide below for full instructions on how to create your voucher.

How do I refund an order to voucher?
By clicking Refund on an order page, then Add Products or Vouchers on the Payment page. You'll then be able to select the Refund Voucher to add to your basket.
See step 5 in the Step-by-Step Guide below.

How do I redeem vouchers on Box Office?
On the Box Office page, by going through the normal purchase flow - but on the Payment page, selecting a Voucher Payment Method and entering the voucher code.
You just need to make sure the Voucher Payment Method is created before you do this.
See our step 6 in the Step-by-Step Guide below for full instructions.

STEP-BY-STEP GUIDE:
1. Create a Voucher Product:
a) Select Products on the left hand side and then New Product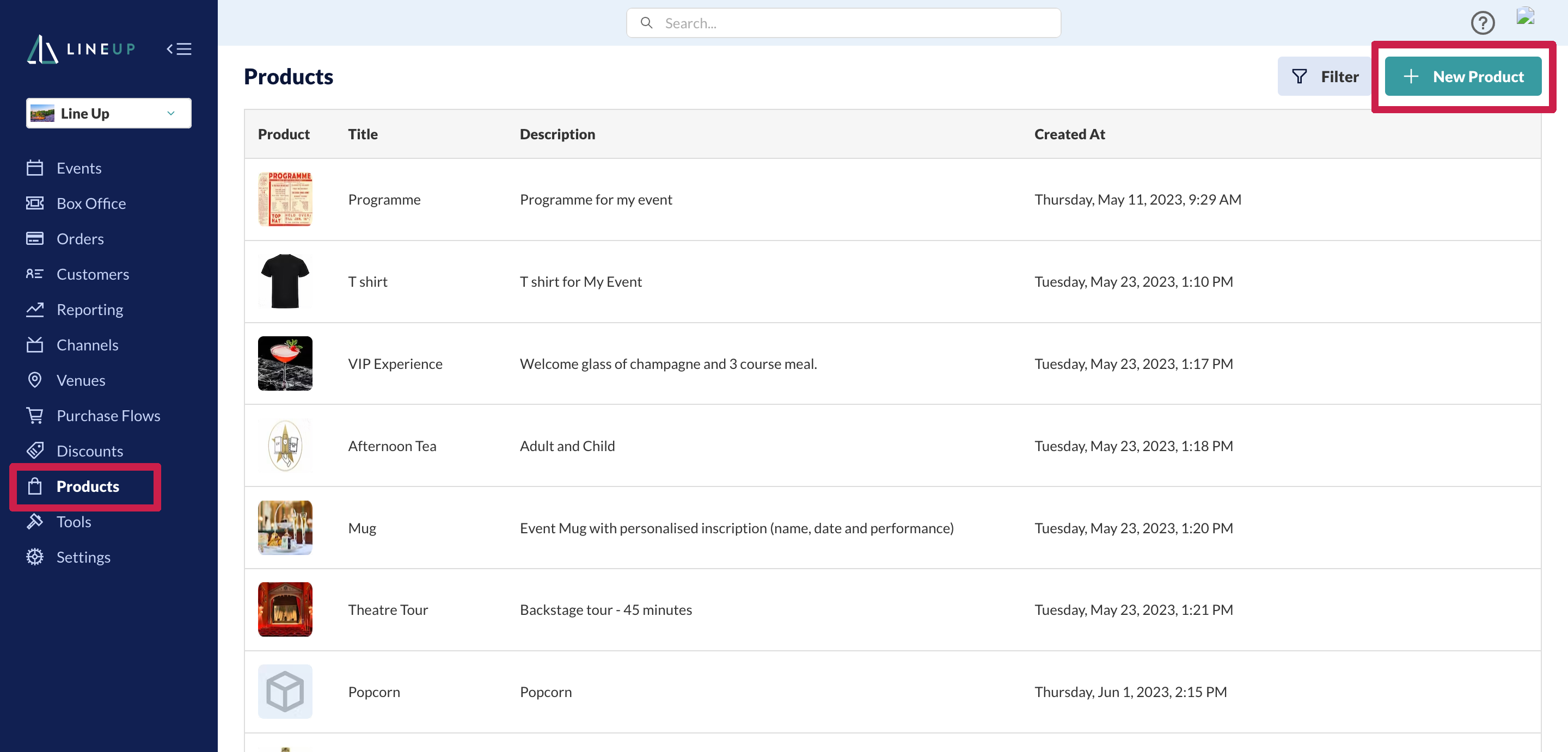 b) Enter details:
Name
Description
Type - select Voucher from the dropdown
Image - jpg or .png image (no larger than 1MB)
Inventory - Set a stock level of the product or select Unlimited inventory
Tags - for internal use, these will appear in your product list
External ID - for internal use, a unique identifier for the product
Voucher Settings - enter Voucher Name and Days Valid For (how long you would like the voucher to be valid until it expires)
c) Submit your product
2. Create a Price Table:
NOTE - if you are creating a Refund Voucher then you'll need to create a Price Table as it will need a tax rate. However, because the voucher value will be the balance of the order you're refunding, there's no need to create any specific prices
a) Select the Prices tab and New Prices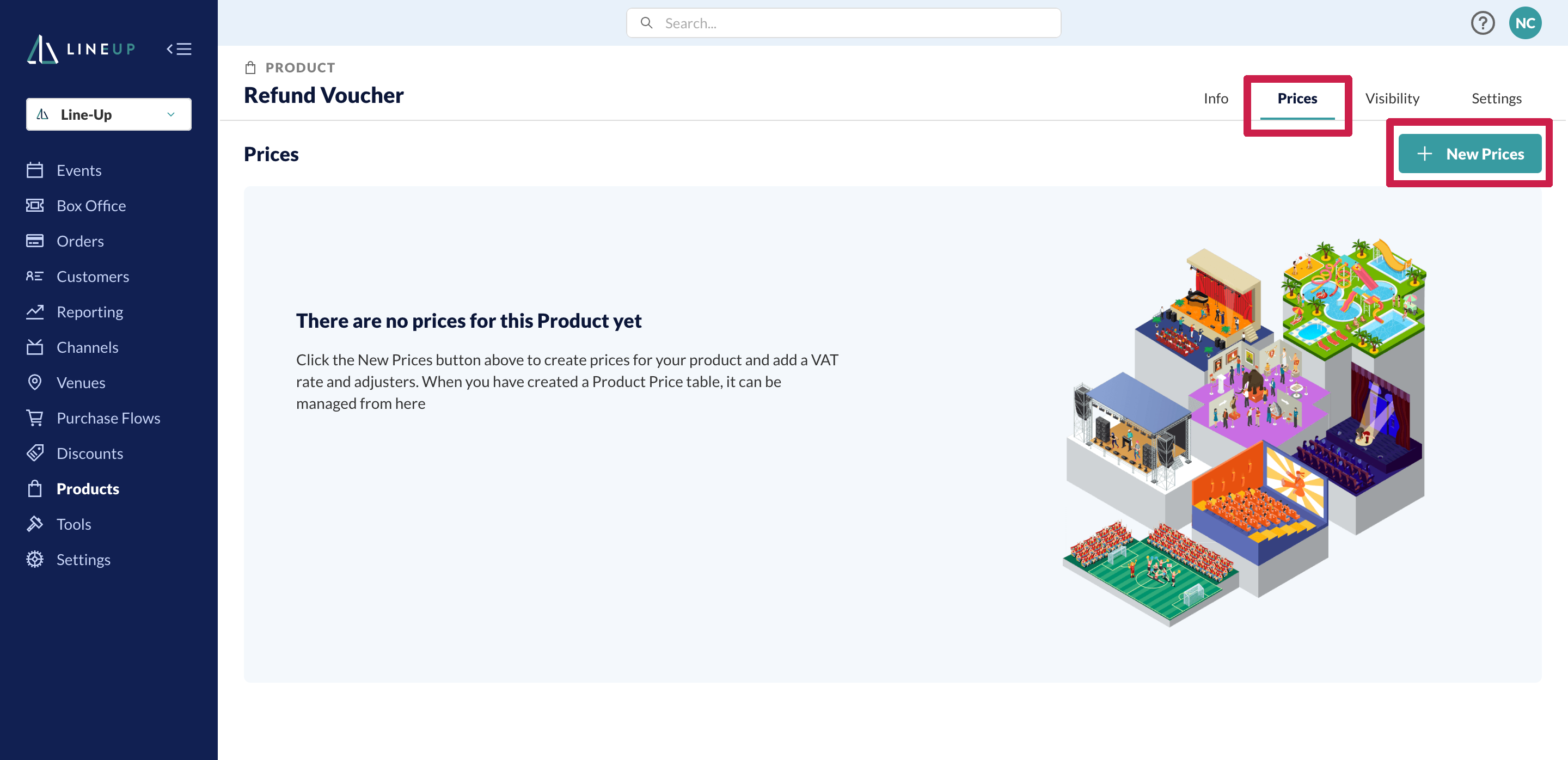 b) On the pop-up, enter the following details:
Name
Description
Tax Rate - select from the dropdown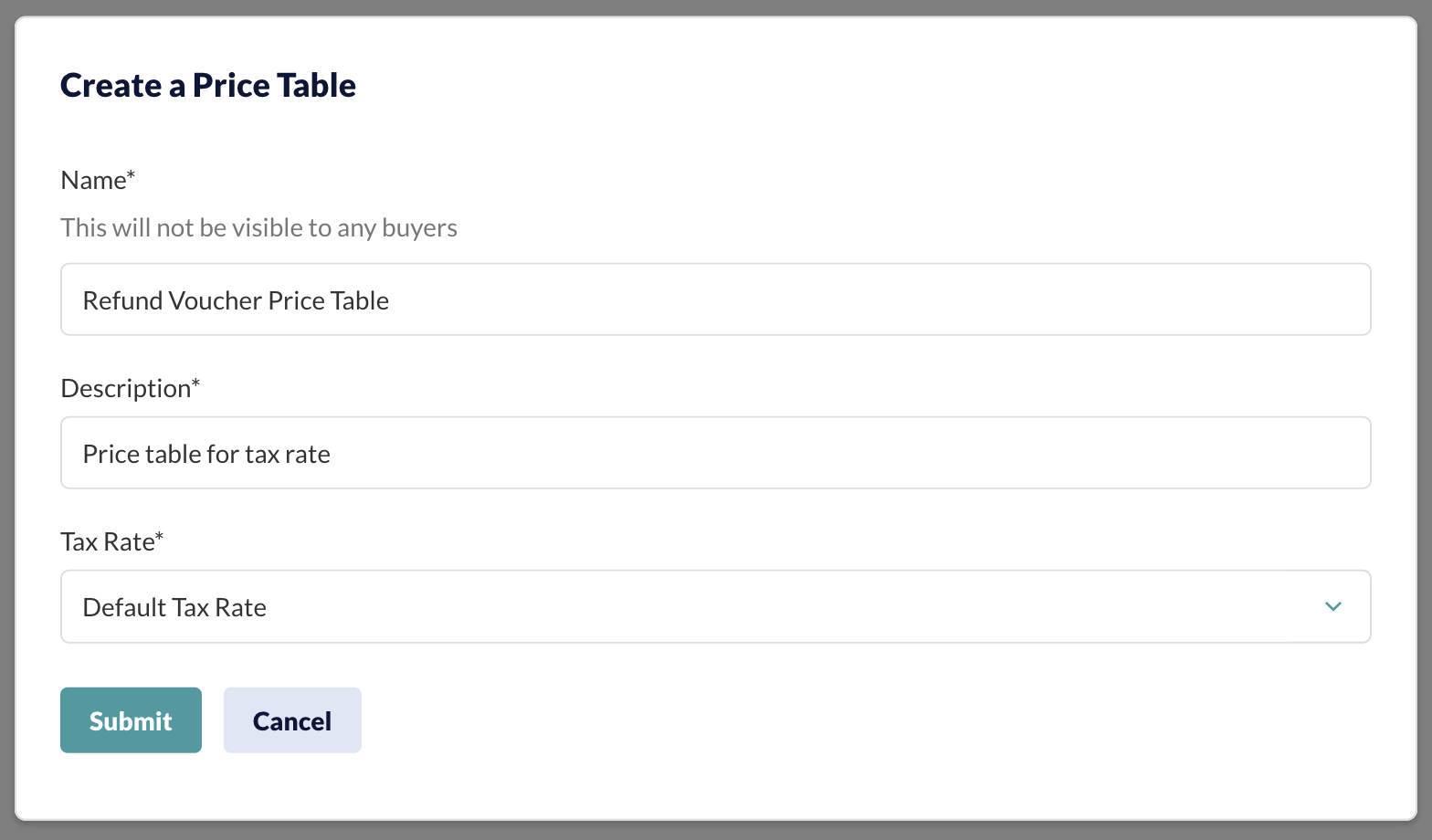 c) Review and Publish Price Table:
Click Review and then Publish & Make Active on the next page

3. Manage Visibility - Channels:
a) On the Visibility tab select which channels the product will appear for
b) Click Update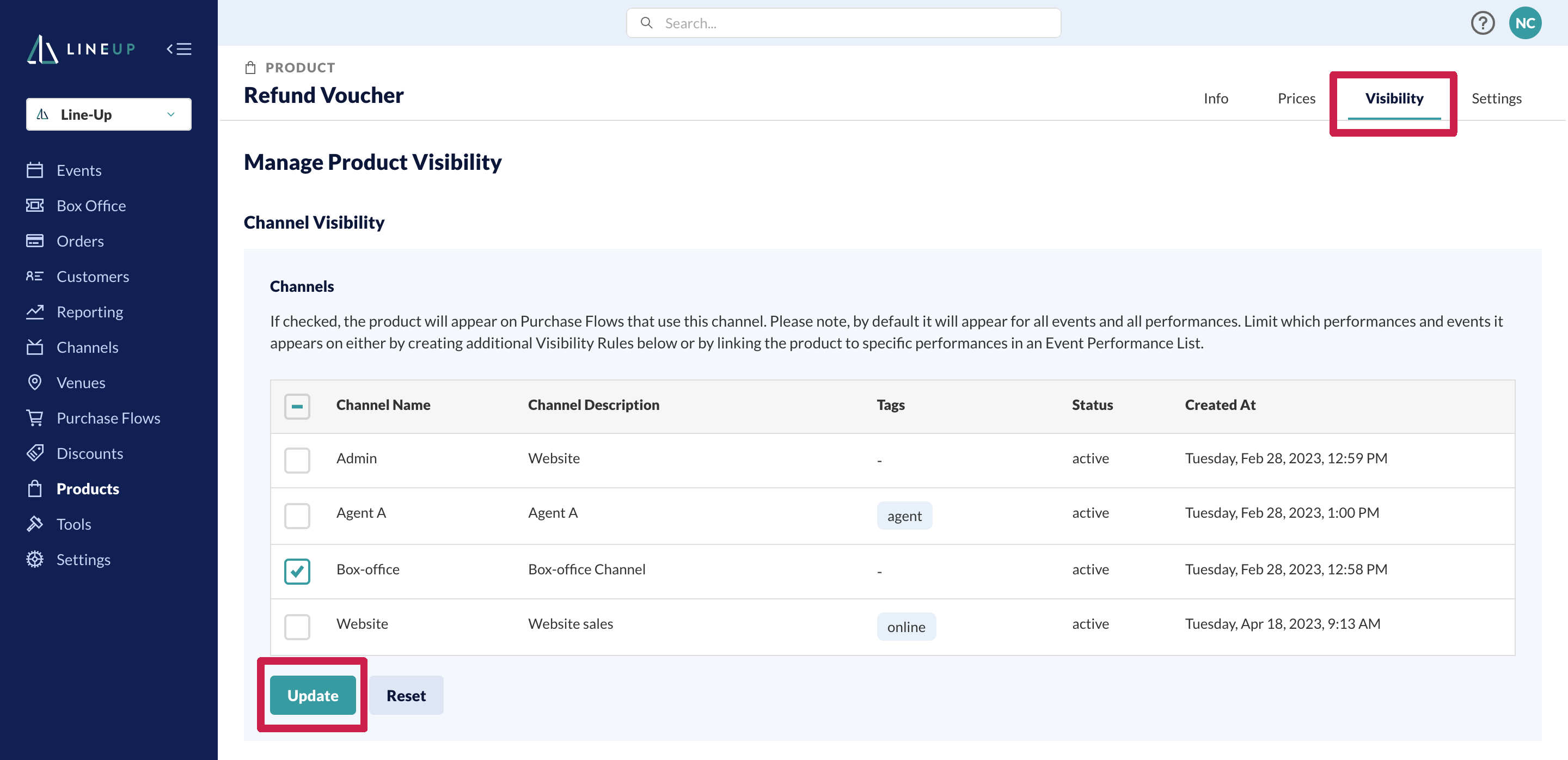 4. Choose Print Rules for your Delivery Method:
NOTE - you may want to create a new refund/voucher-specific Delivery Method if you'd like your customer to have certain information in their email confirmation, e.g. details of the refund and/or the voucher code. See here for how to do that
a) On the Product page, click the Settings tab
b) Click the pencil icon on your chosen Delivery Method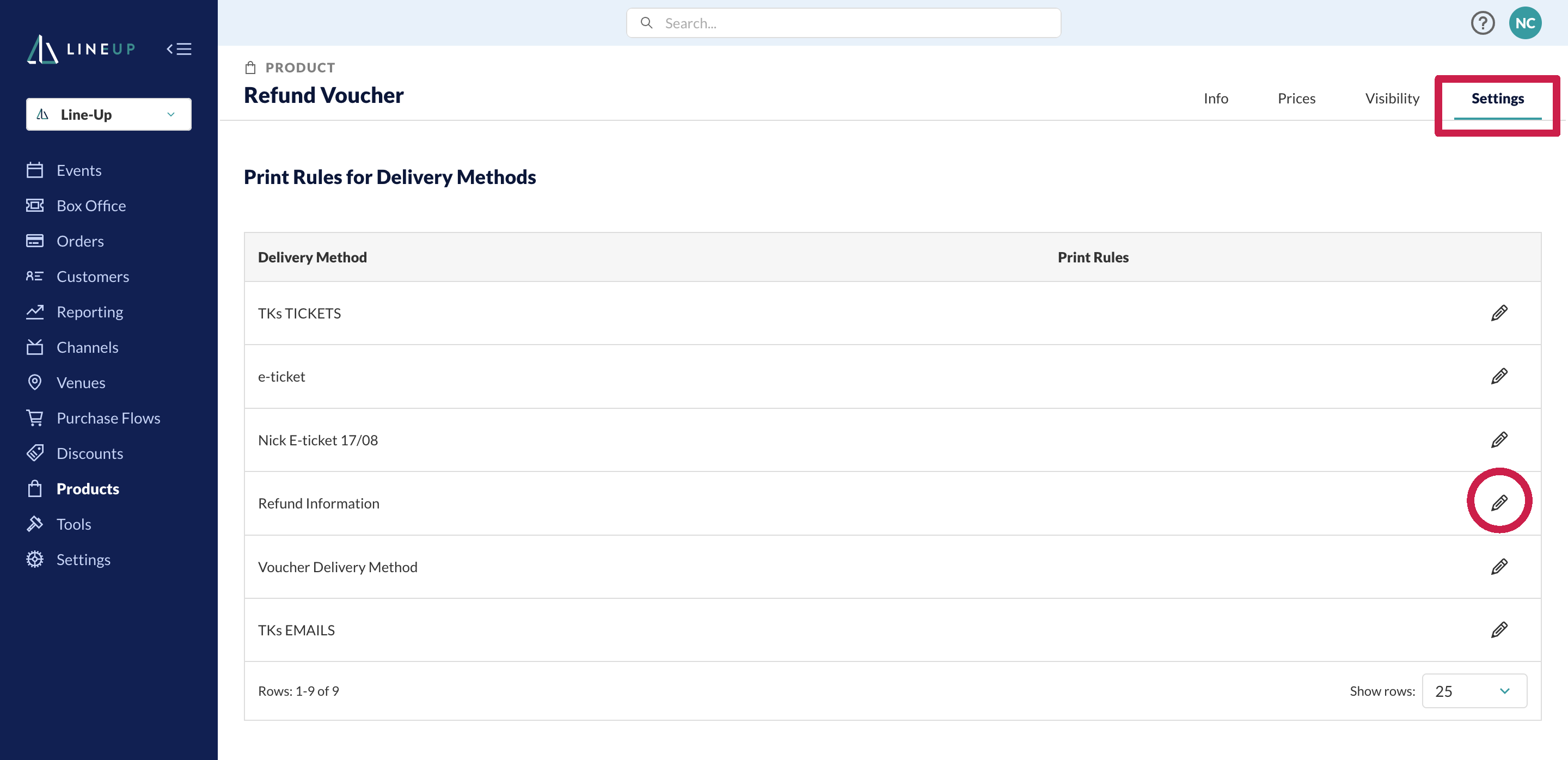 5. Refund an order to voucher:
a) On the Order page, click Refund and choose the Channel you'd like to do the sale through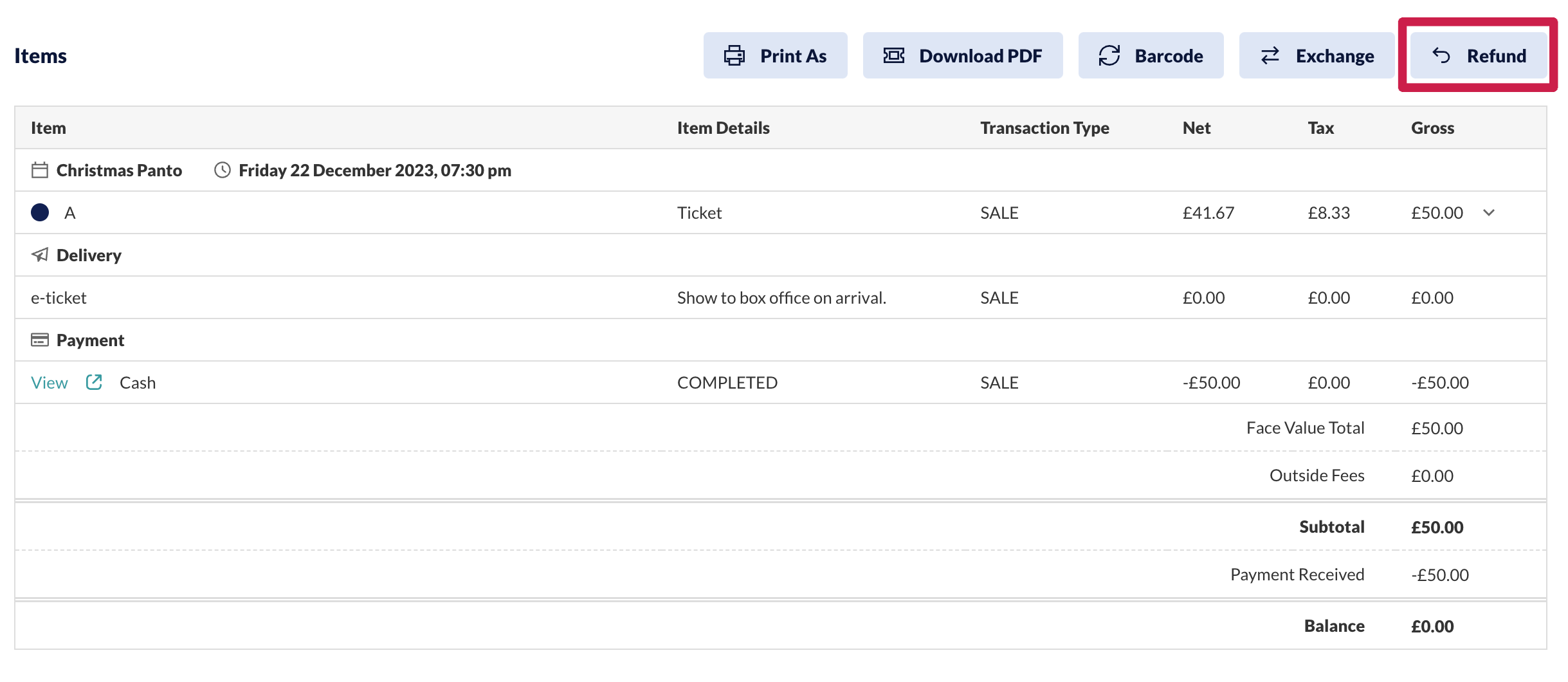 b) On the Payment page, click Add Products or Vouchers
c) This will take you straight to the Products page, where you can click Refund to Voucher on the voucher product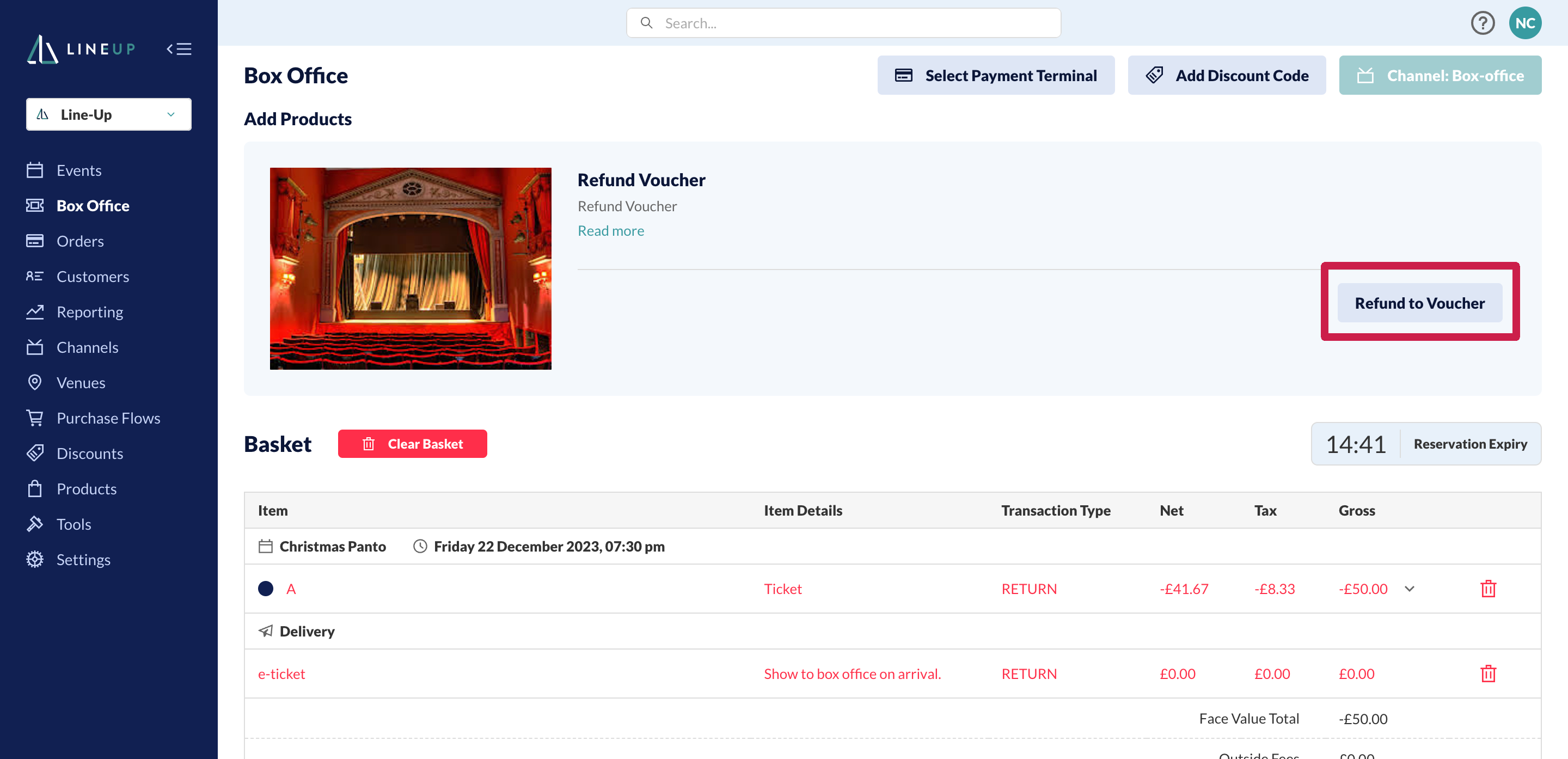 d) This will add the Voucher item to the basket. Click Continue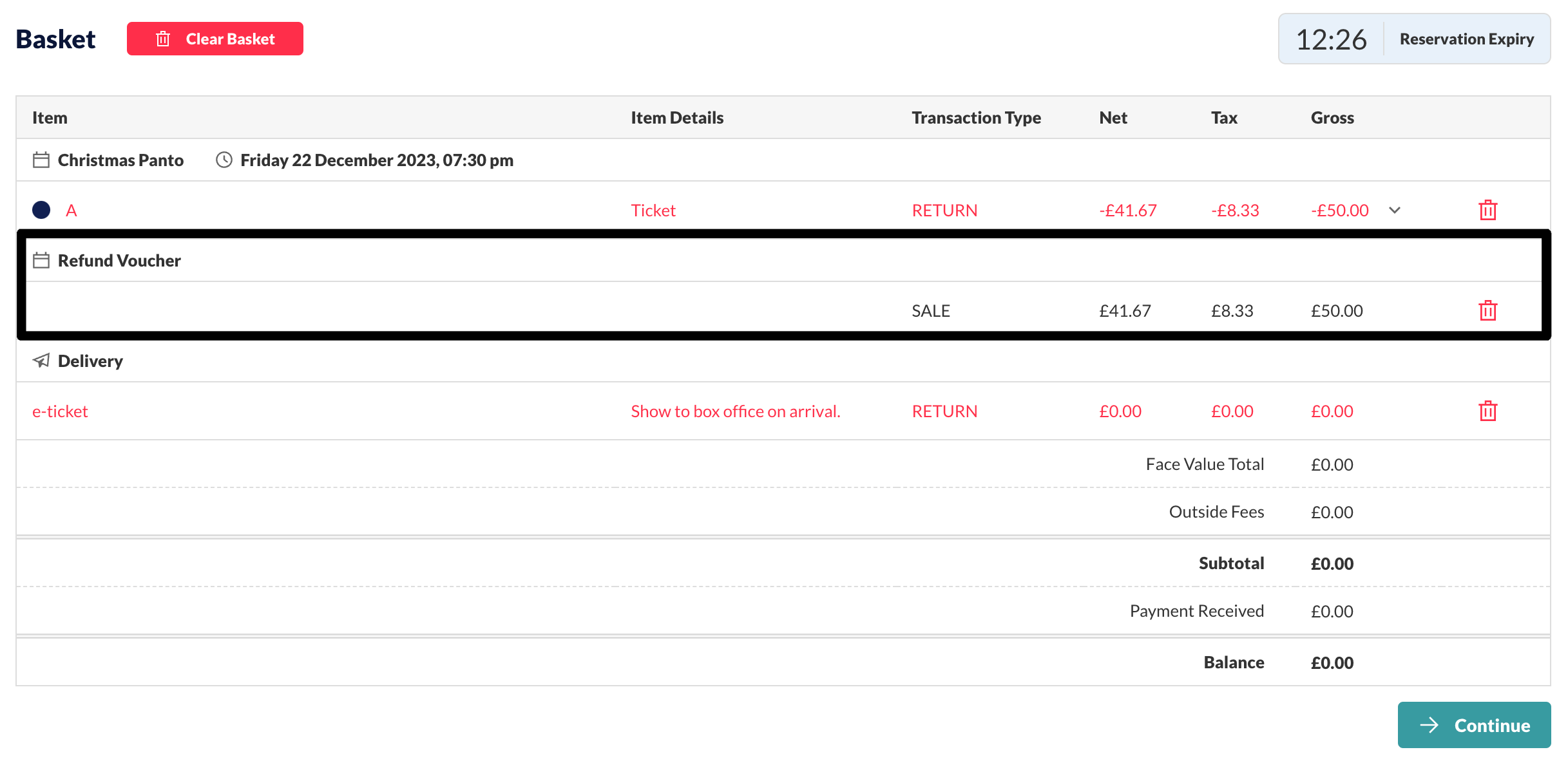 e) Continue to Order Options and select the correct Delivery Method for the refund

f) Continue onto Payment page and as there's no payment to be taken, click Complete Transaction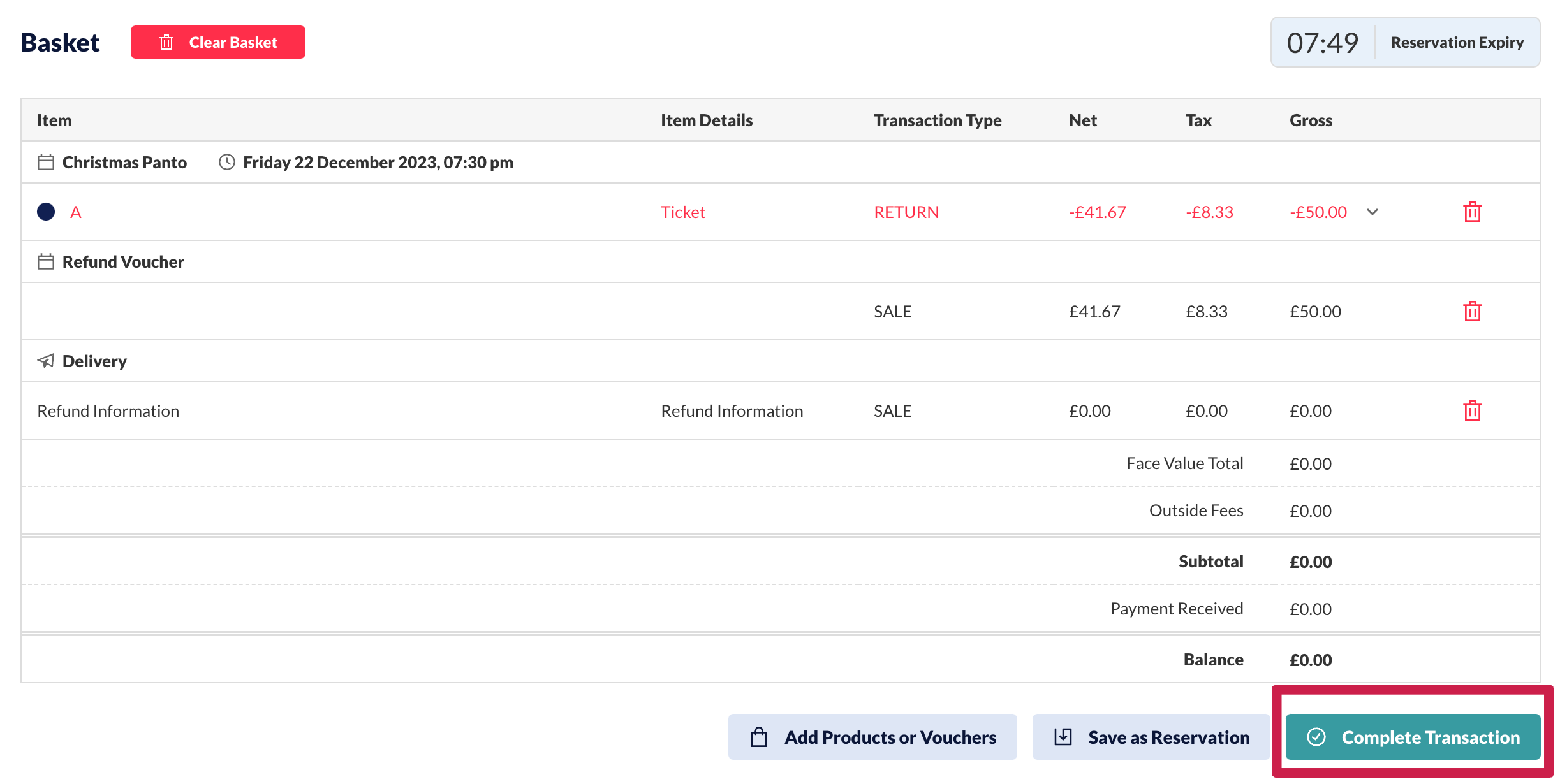 6. Redeeming vouchers on Box Office:
a) Create a new Voucher Payment Method
On the Settings page, click New Payment Method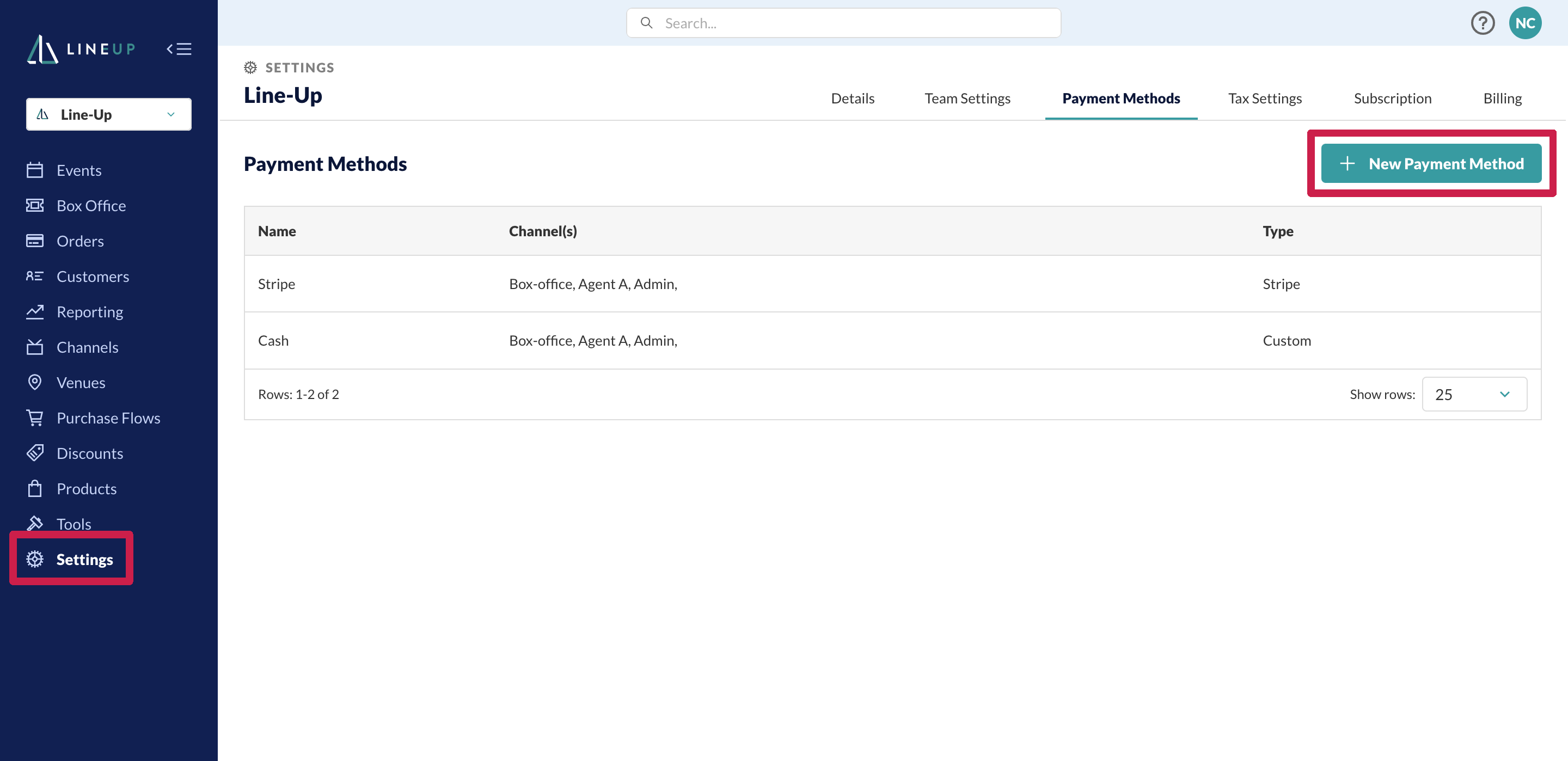 Select Voucher Payment Type and enter the name of the Payment Method

Select the Channels you want it to be available for and click Submit

b) Use Gift Voucher for an order at Box Office:
Go to Box Office page and go through the steps to add tickets to the basket
Once you're on the final Payment page, select the Voucher Payment Method from the dropdown
Enter the Voucher Code underneath and click Pay & Update Basket Total

NEXT STEP: Refund an order back to card or other payment methods